Demolition, Asbestos Removal
and Civil Works
DE-Construct is a leading supplier of demolition, asbestos removal and civil services in the construction and building sectors
At DE-Construct we take pride in being at the forefront of building work innovation and comprehensive in our approach to every demolition, asbestos removal and civil works project.

We believe it is because of our hands-on management approach that we are able to offer our clients value for money services with exceptional fast turnaround on project start-ups and completion of work, always completed to our clients specifications.

Put simply, our approach equates to greater savings for our clients on actual building cost and savings in time with DE-Construct customers demonstrating their satisfaction by their repeat business.
View Our Previous Projects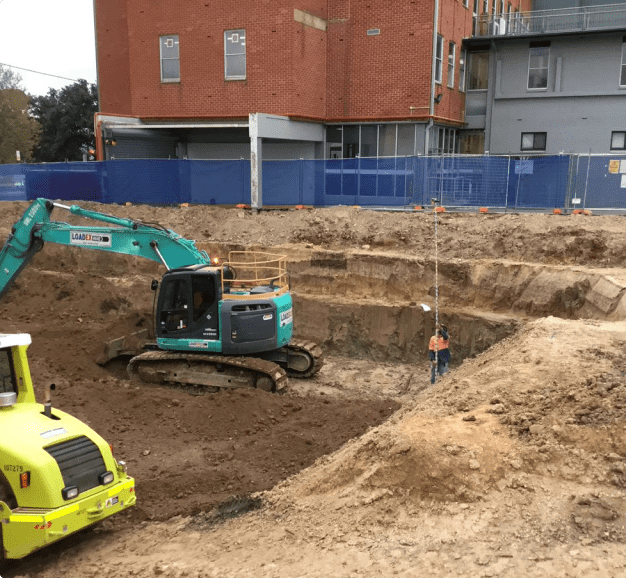 De-Construct is a Demolition, Civil and Building services contractor where no job is too small, large or technical.
We undertake a full range of services surrounding the demolition, renovation and reconfiguration of buildings and facilities. Specializing in Class A Asbestos Removal, Specialised Heritage works, Site Remediation and Detailed Internal Demolition for internal fit out.
Demolition
We are able to carry out the structured demolition of internal fit outs as well as full demolition of existing building and civil structures. We can tailor our approach to suit your needs, for example complying with key environmental principles and Greenstar standards.
Asbestos
DE-Construct holds an unlimited Asbestos Removal Licence and can safely undertake the removal and disposal of all types of asbestos.
Civil works
From building plateaus to car parks DE-Construct can complete the entire civil works package including: electrical reticulation, hydraulic services, communications, concrete kerbing, block paving, bitumen paving and line marking.






What our clients say
Thanks for the contribution that your company has made in assisting the South Australian community recover from the devastating 2019-20 'black summer' bushfires. The South Australian and Federal Governments have allocated over $15 million to assist with the state-wide bushfire clean-up, supporting 541 properties to be cleared ready for rebuilding. While the road to recovery is a long one, the part that you have played to assist these communities in their time of need has been significant.

DAVID SPEIRS MP
Minister for Environment and Water
Safety & performance was critical on our project that had many public interfaces. Deconstruct's appetite to work with us to resolve issues collaboratively resulted in an exemplary safety record. Their workforce was professional and extensive planning of the work gave us confidence in their performance. I have no hesitation in recommending Deconstruct for demolition works involding heritage works, public interfaces and major works.

Scott Brumfield
Hansen Yuncken